Aluminium window and door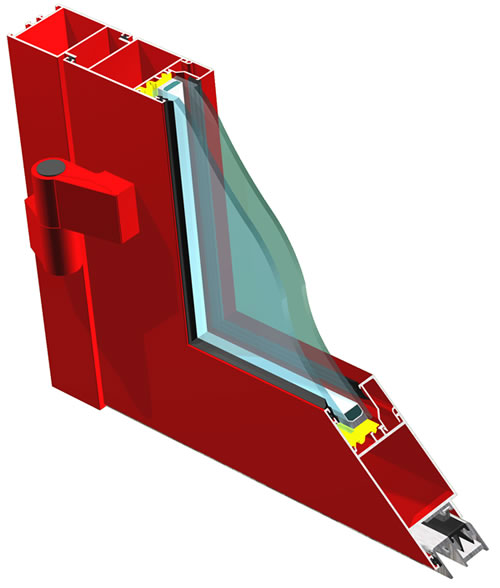 ECONOLINE
– is a system without thermal break, intended for the construction of partitions, both fixed and those with windows and doors. Profile width is 51 mm (6 mm more than the standard prevalent in the market). The system allows using glass units with a thickness from 3mm to 38mm. Glass panels are secured and sealed in the sash rebates with aluminium glazing beads and with gaskets. Econoline system is also avaible with a specially shaped Eurogroove for fitting clamp hinges.
Application:
windows, doors and partition walls segments for general use in public buildings and industrial for office spaces
it is possible to construct sliding doors, swing doors, walls connection at any angle and reinforce the already made and even installed elements.
IMPERIAL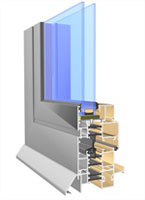 SYSTEM CHARACTERISTICS
Three chamber system designed for constructing external doors, windows and various glazed structures. The 24 mm wide thermal break, made of polyamide enriched with multi directionally oriented glass fiber, considerably improves the mechanical endurance of the profile's internal and external chambers. Thermal brake is also fitted with Coex seal which, in the process of baking of powder-lacquered profiles, creates a reliable vapor barrier and a perfect seal. The use of branded fittings and a wide range of threshold solutions makes the system very modern and versatile. The advantage of IMPERIAL windows is the possibility of proper selection of a sash for the required window dimensions (several types of window frames and sashes) and a selection of sash to the fittings – there are sashes typically for aluminium fittings, compliant with the EURO standard, as well as fittings for PVC windows.
APPLICATION:
structures with glazing units and single glazed
tilt and turn windows, turn windows, tilt windows , tilt – slide windows
door opening outwards, inwards, single and double leaf doors, fixed glazing (sidelights, fanlights)
swing doors and sliding doors
vertical and horizontal pivot windows
SUPERIAL
SYSTEM CHARACTERISTICS
System with enhanced thermal insulation. Thanks to three-chamber thermal break, central chamber gasket seal and special glazing gaskets, the system achieves the factor UR <2.0 W/m2K (material group 1.0 according to DIN 4108). Profils depth for windows frames and those for fixed glazing is 75 mm. The depth of window sashes is 84 mm. Superial is based on accessories (corners, T connectors), glazing strips and fittings from other thermally insulated systems. The system achieves very good acoustic properties. The possibility of using fillings with a thickness of 14-61 mm.
APPLICATION:
all kinds of windows and exterior glazing
tilt and turn windows, turn windows, tilt windows, tilt – slide windows
door opening inwards, based on a modified window sash
STAR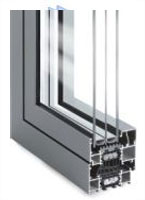 Window and door system with enhanced thermal insulation.
three – chamber system
thermal insulation coefficient: Uf within the range 0,6-1,23 W/m2K.
45 mm wide thermal break made of innovative materials
profiles depth: 90 mm – frame and 99 mm – sash
it is possible to equip the door with the roller hinge system with very high load capacity
a new standard of overlapping the profile with glass (the increased depth significantly improves the thermal and structural performance of the system)
an innovative system for drainage of water from the structure (no visible elements covering the drainage holes)
the same type of insulating filling in the windown sash and frame
a new type of corner, avoiding a collision of screw/corner while fixing the external fittings components in PVC groove
the possibility of glazing from the outside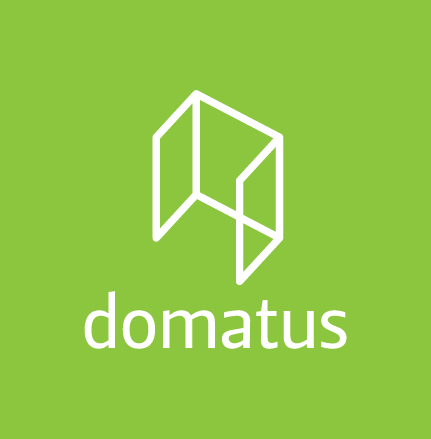 Sales Office:
ul. Żmigrodzka 52, 60-171 Poznań
+48 61 8678 447, +48 61 6617 355
+48 61 8689 336
biuro@domatus.pl
wyceny@domatus.pl
Export:
b.kups@domatus.pl
skype: domatuseksport2
+48 506 184 302
k.nowak@domatus.pl
skype: domatuseksport